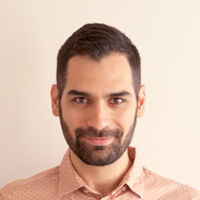 Serene Audio is a passion project by the dynamic sibling duo Aida and Sia. [amiable fellows in fig. 1].
Who are we and where did we come from?
The company started as a humble project by audiophile and alpha-nerd Sia Rezaei [charming visage in fig.2] whose love for hi-fi sound and artisanal craftsmanship was oozing to be shared with the world. Particular about his selection and dissatisfied with many speakers on the market, he decided to create his own Hifi desktop speakers.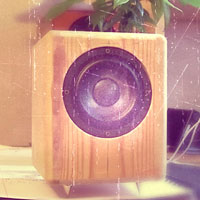 Some prototypes later, he breathed life into "Grandpa" [Fig 3. May his memory always be cherished]. When Sia and Grandpa locked eyes -or ears really- their destiny became clear. The world needed to know about their love, and there was no going back! At that point, Grandpa sounded great, but he needed a makeover in order to face the glamour of the outside world. As Theo Jansen puts it: "The walls between art and engineering exist only in our minds"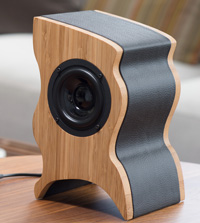 That is when Sia designed Serene Audio's first line of products. He named the new and renewed speakers "The Talismans" [Sexy thang in Fig. 4]. The Talismans, designed in house and hand-crafted in Vancouver from fine bamboo, faux leather, and brass, were truly a sight for sore eyes.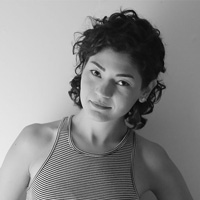 Meanwhile in San Francisco, there was Aida Rezaei, the colourful sister of Sia [jolly face in fig. 5] whose love for audio comes from her alter ego as a DJ and record collector, always nerding out about tiny details in music, how they sound, and how they make you feel. Aida had been keeping a close eye on Sia and his special relationship with his speakers all this time, throwing in her 2 cents every once in awhile. After witnessing the great potential of these speakers from the sidelines, she decided to kiss goodbye the world of user experience design in San Francisco to join Sia in his sonic adventure.
Why we're special (asides from what our mom tells us)
Together, this dynamic duo saw a unique opportunity for bringing honest and quality products into the world. What exactly is this new opportunity, you ask? It lies within the gap. (No, not The Gap

). It is in the space between the niche "analities" of the audiophile world and the banalities of mass consumer audio. The former nitpicking on superfluous details and the latter oblivious to what actually constitutes good sound. Being engulfed in both of these worlds at Serene Audio, we find many of these claims inaccurate, unnecessary, or confusing. There is so much noise on each side that distracts us from finding true, honest, and good quality speakers at an affordable price. At Serene Audio, we want to meet you right in the middle where HiFi quality meets honesty and affordability.
What do we mean by anality vs. banality? [Refer to fig. 6]
*Warning: If you believe any of the following to be true, please resort to the small X on the corner of this screen and let us part ways because likely, we will not get along.
Do you believe in any of the above, and are unwilling to change your mind? Well then it's best we put a hold on this relationship right here and now before one of us gets emotionally hurt.
Our mission
Find the above points as hilarious as we do? Then we, my friend, shall be pals. And as your pals, you can trust that we will not be gold-plating any fancy trademark with a vague advanced technological term, claiming to be offering something that is not more than just a fancy term. Instead, we will spend all that gold-plating money and energy on creating value in areas where it matters most: in getting thoughtful designs and quality components to you at a reasonable price.